Overkill US
Overkill UK, Ltd.
P.O. Box 1758
Absecon, NJ 08201
Fax: (609) 677-1908
Email: overkill@okus.com (please include "OK:" in the subject to slip past the spam)
Overkill US and UK are software houses specializing in Air Traffic Control systems. We have participated in the US and UK Rehost programs; been involved with the DCCR, ATCRTS, SPRINT, MARC, HOCSR, MDM Rehost, IATS and ERAM projects; and worked in the 9020, HCS, ODAPS, OFDPS, NATS, NERC and ROC NAS systems, particularly in the Monitor operating system. Overkill US is located near the William J. Hughes FAA Technical Center in New Jersey. Overkill UK, Ltd. is based near Heathrow airport. We are also involved in World Wide Web page design and recreational software.

WWWeb freshness dating:
Nov 5, 2020
Team Overkill
Bill Hand - Director, Computer Analyst; MVP (1997)
John Hanna - Computer Analyst; MVP 1993, '95, '96, '00, '01, '02, '03, '04, '05, '06, '07, '09, ('11), 20
Raquel Cuba - Computer Analyst; MVP 1994, ('97), '98, '99, '08
Georgina Hand - Computer Programmer, Web Design
Mike Cooley - Computer Analyst; MVP 2019
Corrine Havens - Computer Analyst; MVP (2011), '12, '13
Tom Gray - Computer Analyst; MVP 2010, '14, '15, '16
Gone, but not forgotten:
Overkill "Classic"
Overkill UK, Ltd.
Overkill US
Ann Thomas ('87-'88)

Steve Reynolds ('87-'88)

Vince Hare ('88)

Cynthia Thurston ('94-'95)

Bill Fyfe ('03-'07)

Chris Walcot ('93)

Margy Mazzoni ('97-'09)

Stephen Poffley ('12-'14)
---

Web Page Design Let us create World Wide Web pages for you. Personal, commercial, or special interest pages, whatever you need. We offer scanning, video capture, digital photography, original artwork, etc. Contact Georgina for an estimate.

We prefer the following tools and resources:
Website Hosting

Content Rating

Misc Utilities:
Paint Shop Pro
LView Pro
Notepad
---

Opportunities
We function as a co-operative arrangement of self-motivated professionals. Salary is strictly performance-based, with bonuses.

Contracts are available in the US, the UK and the Republic of China (Taiwan) for talented programmers with 370 BAL, JOVIAL or C experience (air traffic system experience a plus). All employment inquiries should include a current resume and a cover letter.
---

The History
In 1986, several of us formed a little recreational programming club. We got together on Thursday nights, when our Significant Others were otherwise occupied. We called it "The Thursday Night Club". Our most common criticism of each other's designs was "Yeah, but that would be overkill" (and then we'd implement it anyway). When we suddenly realized that "The Thursday Night Club" was a really lame name, we jokingly called ourselves "Overkill, Incorporated". We wrote recreational software and a collection of IBM CMS utilities that have been in use ever since in more than 20 Air Traffic sites in England and the USA.

In 1987, we decided to formalize the club into a legal partnership, invest in 5 Atari Mega STs and develop marketable software. We registered the name "Overkill", became official Atari 3rd party developers and churned out a couple small utilities and a shareware game of Risk. We had struck agreements with University of Delaware (for a graphics terminal emulator) and Avalon Hill (for an adaptation of one of their board games) when our "day jobs" separated us. We were suddenly spread from NJ to Boston, Florida and England. The partnership dissolved into a sole proprietorship and eventually became inactive. We now refer to this venture (with mixed nostalgia and regret) as Overkill "Classic".

Overkill UK, Ltd. was formed in 1991, first as an invoicing mechanism and then approved by the Civil Aviation Authority in 1992 to bid contracts at the London Air Traffic Control Centre. John became the first full-time employee, followed immediately by Corrine.

Overkill US was formed in March of '93 allowing us to bid on contracts at the Hughes FAA Technical Center in NJ. Our status as Guice Associates has enabled us to participate in a number of successful programs in the US, UK and Republic of China.

Bill and John have been a part of each incarnation of Overkill to date.
---

The Name
Overkill is a memorable name that confuses the suits. At least it's better than "The Thursday Night Club UK, Ltd."

For further information, see The History.
---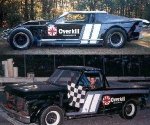 Racing Sponsors
Overkill sponsored a local stock car racing team, and we occasionally made the trip to support the company colors on the track.

Game Nights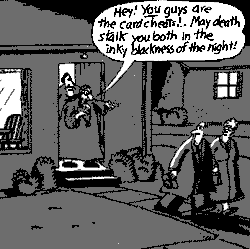 It is an age-old company tradition to gather several times a year for an evening of ridicule and humiliation in the form of "friendly competition".
Cosmic Encounter has provided some entertaining (and nearly violent) evenings.
At some of our game nights, we've had the privilege of alpha- and beta- testing various new board and computer games including an unreleased Cosmic Encounter expansion and several Quake enhancements.
We sponsor a fleet in Star Trek Online.
We used to have Christmas/Hannuka/Kwanzaa/Candlemas/Festivus dinner at the Philadelphia Dave and Buster's, but as they're particularly uncooperative for small businesses (and we have more pinball machines than they do), we decided to change venues each year.
Here are pics from the 1997, 1999, 2001, 2007 and 2008, 2018, dinners. Pictures from 1998 and 2003 were lost, the 2000 dinner never actually happened, (2002 pictures may eventually surface here) and no one bothered to take pictures of the 2005 party (in 2006), we forgot to take pictures of the 2009 event in 2010, and only have the police artist sketch of the 2010 event in 2011. The 2011 event in 2012 was too loud to photograph, and (mumble, mumble) through 2020.
I hope you were paying attention, this WILL be on the final.
See also the Arcade Overkill.